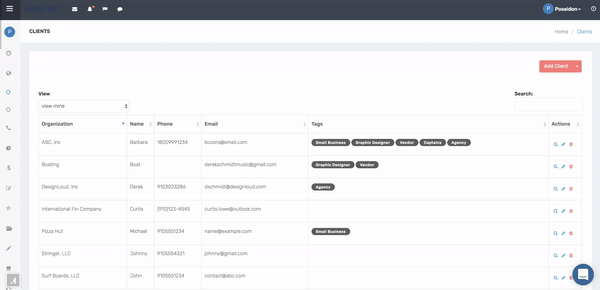 Get Organized And Elevate Productivity With Our Contacts Management Tool
A Clean, Searchable View Of Your Clients
Staying organized has never been easier with Contacts Manager. It's time to reinvent your contacts book. Your contacts list should be easy to view and manage. It should be accessible at any time or place. With SWELLEnterprise, it is.
Delight Clients With Contacts Manager
Building your reputation with clients means being available. SWELLEnterprise is a cloud-based all-in-one enterprise CRM system that allows you to receive notifications from clients on your desktop, laptop, mobile phone, or tablet. Your customers will appreciate a timely reply. Stop waiting until you get back to your office to respond. Contact your clients directly from the SWELLEnterprise web or mobile app.
How Contacts Manager Accelerates Your Business:
Our full view contacts management app allows you to:
Sort clients by an organization, contact type, or tag.
Assign notes to contacts so you can stay informed about their needs and preferences.
Call clients directly from Contacts Manager without ever leaving SWELLEnterprise.
Email clients directly from SWELLEnterprise.
Import/Export contacts lists.
Keep a record of previous client interactions so you know where they are in the buying cycle.
Access client contact information on the go via our mobile app.
Easily update contact information at a moment's notice.
Share client contact information with employees on a need-to-know basis.
Add A Personal Touch
Is your contacts management tool keeping you in touch with clients? An organized contacts list – complete with notes – helps to boost familiarity among salespeople and clients. The more background your employees have on clients, the smoother the sales process will be.
SWELLEnterprise makes it easy – for clients, employees, and most of all, for you.
Do you need an extra field to properly manage contacts? SWELLEnterprise is fully customizable. Just let us know!