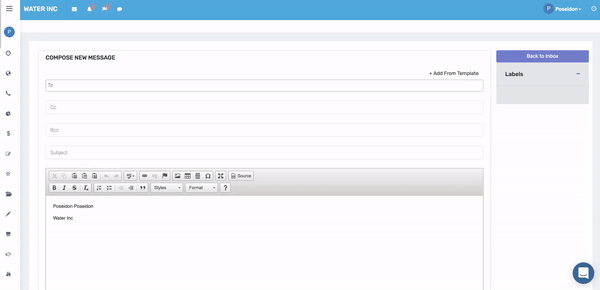 You're already using chat and calendar in SWELLEnterprise. Why go anywhere else for Email?
Keep your communications together and stop missing messages.
Fully Integrated Email
You don't need to stop using your current email address. SWELLEnterprise allows you to direct messages straight into the app so you can receive them anywhere you go.
You can also import several email addresses and choose which one you want to send from at any given moment.
A CRM That Talks To Itself
All of SWELLEnterprise's features communicate internally. If you create a Proposal, Estimate, or Invoice, there's no need to export the file and then upload and attach it to Email.
Send Proposals, Estimates, and Invoices to clients directly from SWELLEnterprise with the click of a button.
Quick and Easy Access
Are you a master of Email? Do you like to get things done fast? Add our Quick Email to your dashboard. Your next message is just waiting to be sent!
Cloud-Based Email
Our Email feature stores all your emails safely and securely in the cloud. Access your inbox and draft new emails from your smartphone, tablet, laptop, or desktop.
Like What You See, But Want More From Email?
Let us know what you need to make your business run smoothly. SWELLEnterprise is fully customizable!