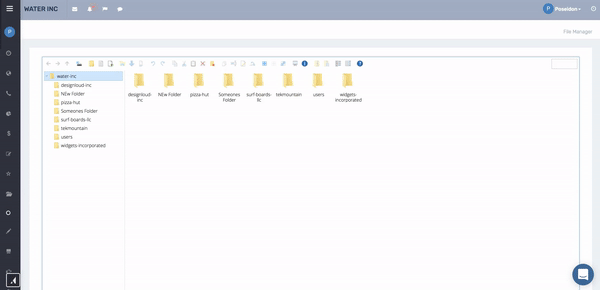 Get Organized With Our In-App Drive
If you're like we were, you have files on your desktop, in folders on your computer, downloaded into various cloud drives such as Dropbox and Google Drive. Stop the chaos!
SWELLEnterprise has a built-in file management tool that makes finding your business files a breeze. An all-in-one cloud-based CRM, SWELLEnterprise lets you access any document, image, audio, or video file from your desktop, laptop, tablet, or mobile phone, so you never miss a beat.
Your Business, All In One Place
With SWELLEnterprise's File Manager, you can:
Create folders with special permissions.
Assign access to files and folder.
Search for files in the search bar.
Open files from the app.
Sort files by name, date, and more.
Create a new text file within the file manager.
Preview files in the app before you open them.
Upload/Download files in bulk.
Archive files.
Simplify Collaboration
File manager makes sure your employees have access to the files they need to do their jobs right. It eliminates complicated email threads that don't get forwarded to the right parties. Instead, grant your employees access to the project folder they need and upload all relevant materials. They can access what they need at any time, all in one place. Take the confusion out of document dissemination.
Access Your Business Wherever You Are
Imagine you're getting coffee when you run into a potential client. You start discussing business and she says she has a problem similar to the one you recently resolved for another client. Wouldn't it be amazing to show her what you did for that client straight from your smartphone?
SWELLEnterprise is a cloud-based all-in-one enterprise CRM. Let your business be accessible wherever you go. You never know when opportunity will knock.
Looking for something more? SWELLEnterprise is fully customizable. Let us know how we can help keep you organized.