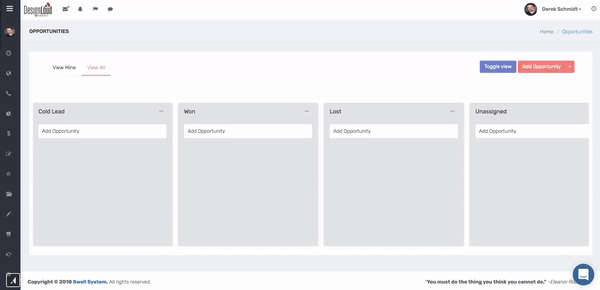 SWELLEnterprise does so much more for your business than store contact information and track leads. It allows your sales team to make the most of every client interaction.
Opportunities vs. Leads
Opportunities differ from leads as they can be attached to any contact, lead, or current client. Opportunities represent a chance for an upsell.
For example, you may have just closed with a client on a website deal. They client showed interest in your social media service during the sale but wanted to wait until the website was finished first.
How It Works
In this case, you would create a new opportunity in SWELLEnterprise. You would:
Title the opportunity "Social Media."
Attach it to the client.
Assign users to the task, such as your social media specialist and salesperson.
Describe the opportunity.
E.G. "Client interested in social media after the website is completed."
Select the status: Won, Lost, or Prospecting.
Assign a value to the potential sale.
Set the start date and deadline.
Add notes as needed.
Your Opportunity to Get Organized
SWELLEnterprise always gives you a bird's eye view of your business, and the Opportunity Management feature is no different.!
When you create a new opportunity, it gets put into its respective column, Won, Lost, or Prospecting. This helps you keep track of what your employees are achieving, what opportunities are being lost, and how your business is doing overall.
Statuses
If that's not enough, SWELLEnterprise allows you to create and tag statuses. Stay on top of your game. And if that's not enough:
SWELLEnterprise is Fully Customizable