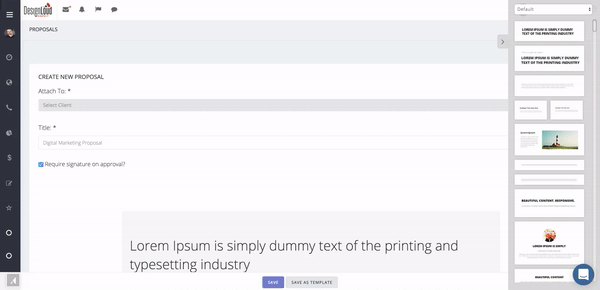 Stunning Proposals Convert More Leads
Create eye-catching proposals with SWELLEnterprise's quick and easy drag-and-drop design features. SWELLEnterprise doesn't allow users to create boring proposals that drown their clients in monotony. We want you to engage your client visually and stimulate them mentally without having to hire a graphic designer and a writer.
What Can SWELLEnterprise Do That A Proposal Template Can't?
SWELLEnterprise takes care of the proposal process from start to finish.
Attach proposals to clients.
Drag and drop over 30 content options from calls-to-action to single images to bold headers to create perfectly stylized proposals.
Link digital proposals to your website.
Track proposal status so leads never fall through the cracks.
Import proposals from CSV.
Send proposals directly from SWELLEnterprise.
Create proposals on-the-go from your mobile phone or tablet.
Edit font and images to match your professional brand.
Ensure a professional look.
Help you make sure you're hitting all your marks with templates
Keep It Together
Having an all-in-one cloud-based enterprise CRM system like SWELLEnterprise ensures that your proposals, estimates, invoices, and projects are all tied to your client. Having all the pertinent information at your fingertips allows you to create a personalized, detailed proposal that looks polished and professional.
SWELLEnterprise gives you an overview of all your proposals. Sort them by date, client, status, or title for easy housekeeping. Can't find the one you need? Search for it in the search bar!
Digital Proposals That Shine!
We supply over 30 content box options as well as templates that will call your clients to action. Colorful, bold, and to-the-point, our proposal feature makes it easy for clients to click "Yes!"
Stop messing around with frustrating formatting. With SWELLEnterprise, all you have to do is drag and drop.
SWELLEnterprise is a fully customizable cloud-based system. Do you have special touches you want to put on your proposal that we don't already offer? Just let us know!