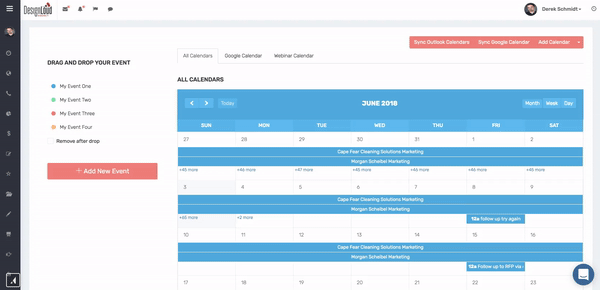 Import your existing calendars or create new ones directly within SWELLEnterprise. Our calendar gives you the functionality you've come to expect from your favorite calendar app and more.
Integrates Seamlessly With Google Calendar, Outlook and More
Odds are you're already using an online calendar for your business. No problem! You can import your current calendar and continue to use it. Your SWELLEnterprise Calendar will update automatically.
Share Your Schedule
With SWELLEnterprise, you create calendars for individual purposes and share it with the employees who need it. Encourage them to collaborate on tasks and stay on track.
For example, you can share a social media calendar with your marketing team and your accounting calendar with your financial department separately.
Turn calendar view on and off to avoid clutter. Keep your calendars clear by with coloring coding. Add notes so everyone understands the what, how, and why of the where and when.
Accessible Wherever You Are
SWELLEnterprise is a cloud-based all-in-one CRM. Take your business with you wherever you go. You can access your calendar from your smartphone, tablet, laptop, and desktop.
Receive notifications on mobile for upcoming meetings, deadlines, and events.
Customize Your Calendar
Do you want something more from your calendar? SWELLEnterprise was designed with you in mind. We want to help you grow your business.
If there's a feature you would add to increase productivity or help you manage your business, let us know! SWELLEnterprise is fully customizable.