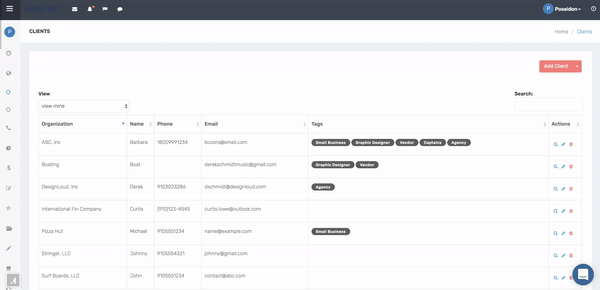 Never Miss An Opportunity With Our 360-Degree View Client Management Tool
Take Control of Customer Relations
When we say "View Client," we mean it. No other client management tool on the market offers as many fully customizable features as SWELLEnterprise. Get the whole story behind each and every client.
You now have the ability to anticipate customer questions and actions before they happen. Our client management tool makes it easy to track leads and keep in touch with clients. A guide leads down the path to purchase and turn existing clients into repeat buyers.
Client Management Tools
We offer all of the features you want and none you don't. Our fully customizable client manager suite lets you:
Easily sort clients by an organization, name, or personalized tag.
Identify clients as Primary Contact.
Store your point-of-contact and company information side by side.
Create and keep Notes regarding customer relations in Client View.
Quickly access the history and status of Estimates, Invoices, and Proposals from Client View.
Create, View, and Manage Projects from Client View.
Call customers directly from SWELLEnterprise with the click of a button.
Assign Tasks to Employees from Client View.
E.G. "Call to confirm shipping address with a client."
Create and Manage Documents directly from Client View with our file manager.
Share client information with employees when necessary.
What Makes SWELLEnterprise's Client Manager Different?
Sick of wasting time and energy switching from tab to tab, looking for phone numbers, and shuffling papers? Our goal at SWELLEnterprise is to streamline tasks so you can focus on running your business. SWELLEnterprise's organizational capabilities will help you improve productivity, communication, and ultimately boost your ROI. That's why we call it an all-in-one enterprise CRM.
Most business management systems are designed around the perceived needs of business owners. SWELLEnterprise is designed for you. If SWELLEnterprise's Client Manager is lacking a feature that's pertinent to your business or industry, simply let us know.