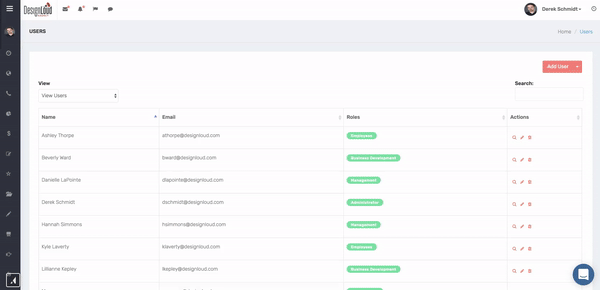 Users Put You In Control Of Your Business
With SWELLEnterprise, you have complete control over what your employees can and can't do within the CRM. Our Users feature reduces the risk of human error and keeps your employees organized and at your fingertips.
How It Works
Users refer to all the people who are on your company account within the SWELLEnterprise app. You can assign them to these preset roles:
Administrator – Can add/remove users and add/remove permissions.
Management – Can view others info and their own but cannot do company actions.
Employees – Can access their own resources and resources assigned to them.
How To Manage Roles
You can also create new roles with unique permissions. To create a new role, simply add a title and description, then check or uncheck permissions as needed.
For example, you may want to allow a Customer Service Representative to view and edit clients and projects, but not delete them.
Or, you may want to allow your Accountant to view and edit invoices and payments, but limit access to leads, opportunities, and other features that they don't need.
This feature helps employees stay on task and prevents them from exploring, editing, or deleting files by accident.
View, Sort, and Edit Users
View a directory of your staff in View Users. From there, you can search or sort by name, email, roles, and actions.
View and sort your roles, as well. As your company grows, you may need to add and edit permissions. SWELLEnterprise lets you do it all.
Wherever You Are, We're There
SWELLEnterprise is an all-in-one cloud-based system accessible on your smartphone, tablet, laptop, or desktop.
SWELLEnterprise offers top quality customer support and full customization. If you're looking to get more out of SWELLEnterprise, simply let us know!