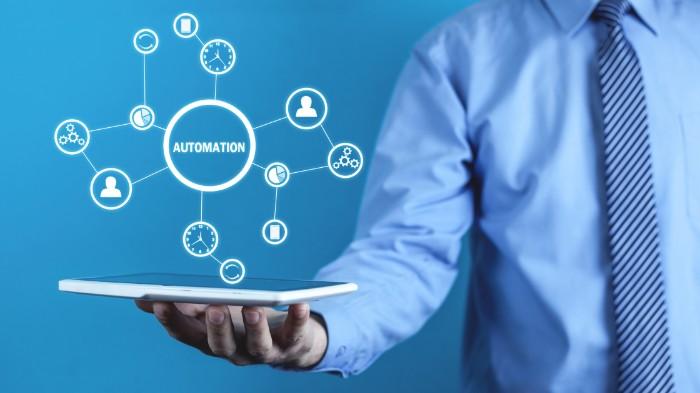 It's no secret that companies are often faced with periods of drastic growth or influxes, whether it be due to a sudden rise in demand for your product or service or the announcement of a new venture. When this happens, you may find yourself struggling to keep up with the increase in activity and workload. That's where business automation comes in. Business automation is essential because it reduces overhead costs, decreases manual labor, and increases employee productivity within the workplace. Having the right business automation platform allows businesses to quickly react to changing market conditions and quickly scale up operations when necessary. When companies are equipped with the best business automation tools, they are able to provide better customer service and operate more efficiently.  Here's a closer breakdown of how business automation generally works:
What is Business Automation?
Business automation is the process of using technology, such as machine learning, to streamline and optimize certain business tasks. Automating tedious and time-consuming tasks such as customer outreach provides a dramatic increase in efficiency which can free up employees to focus their energy on more creative activities. This increased productivity makes businesses more competitive and better able to adapt to ever-changing markets. Artificial intelligence has become a key enabler for automation software, taking mundane processes and transforming them into automated workflows that improve customer engagement, enhance collaboration between remote teams, and reduce costs associated with manual labor. AI-driven automation allows businesses to do more with less, ultimately allowing them to focus on strategic growth instead of mundane tasks.
Benefits of Business Automation
There are many benefits associated with business automation, including increased efficiency, improved customer service, better decision-making capabilities, and cost savings. With automation, businesses can quickly collect data and process large amounts of information without human intervention. This helps them make more informed decisions in less time than they would otherwise be able to do manually. Additionally, automated systems are often faster and more accurate than manual ones because they don't require manual entry of data or labor-intensive activities such as double-checking for accuracy.  
Automated Workflows
Automated workflows are one of the most powerful tools available for businesses today. By creating automated workflows that connect multiple steps in a process together, businesses can standardize business processes to save time and increase efficiency by reducing manual errors and providing transparency into how each step works together. For example, an automated workflow could be used to send out sales emails when customers sign up for a newsletter or follow a company on social media platforms like Twitter or Instagram. By automating this process, businesses save time by not having to manually send out each email individually and gain valuable insights into their customer base as well as get feedback on their campaigns in real-time so they can adjust their strategies accordingly.
SWELLEnterprise
By using business automation software for some of the tasks associated with running your business, you can free up your time to focus on more important things—like growing your business. We'll share 10 business automation tools and features from SWELLEnterprise that can help you handle sudden influxes in business. From project management software to accounting tools, these solutions will help you keep your business running like a well-oiled machine—no matter how much demand you're facing.
1. Teams
SWELLEnterprise's Teams feature is the perfect way for companies to utilize business process automation to easily organize their employees into well-defined teams. This tool enables users to define each team according to their business needs, assign tasks and projects accordingly, and have a better overview of what everyone in the company is working on. This is incredibly beneficial, as having a good organizational structure can improve workflow and employee productivity, leading to more profits. Teams allows managers to invite users to join specific teams or let them join multiple teams at the same time; this helps ensure that everyone in the company is contributing in the most effective way possible. With Teams, keeping tabs on your organization is simpler than ever – manage it efficiently with just one glance and save precious time so you can focus on improving your business.
2. Invoicing & Accounting
Doing business efficiently requires smart automation solutions. SWELL's Invoicing and Accounting features are designed to be exactly that by helping entrepreneurs and businesses automate their operations in order to save time, eliminate room for human error, and maximize efficiency. With these features business owners can easily create clean, professional invoices simply by selecting a contact and entering the product or service name, unit cost, and quantity information. Furthermore, it allows them to keep track of all their expenses easily by importing account data into the app. With various reports generated from the imported data now at their disposal, companies can make better decisions on how to grow profitably. Ultimately, SWELL's Invoicing and Accounting features automate repetitive tasks to make running a business much more manageable while giving you easy, secure access to critical financial information.
3. Marketing
When you have that new rush of customers or clients and want to retain them, SWELL's Marketing tool can help businesses build customer loyalty and engage with their audience. With the simple drag and drop builder, you have the ability to create newsletters, send SMS text messages or even build drip campaigns quickly and easily so you aren't frustrated from not having the technical know how or time to handle these tasks. Choose from a selection of professionally prepared templates that have been personalized with your branding or design your own sequences in no time. Even better, monitor and see when your emails have been opened, clicked on or bounced. Unlock the lead nurturing potential for your marketing efforts to reach new customers and retain existing ones with SWELL's user-friendly features!
4. File Manager
Organizing and managing files can be one of the biggest headaches for companies, especially during periods of increased demand. Therefore, having an automated file manager system in place could be a huge advantage for operational efficiency. Fortunately, SWELL Enterprise makes filing a breeze with its all-in-one File Manager tool. Its cloud based software means that it's accessible from any desktop, laptop, tablet, and mobile phone so employees can access the files they need when they need them. The File Manager also allows businesses to create special folders with permission settings and to assign access to specific files or folders. It also offers basic searching functions, so you can quickly find what you're looking for by sorting their type or name and arrange them according to date or similarity. Do you have a large amount of files that you need to upload or download in bulk? We make it effortless to import data you need so you have it all in one place. In short, SWELL's File Manager helps keep everything in order and makes collaboration easier without having to deal with multiple platforms, so businesses can focus on what's truly important – their success!
5 . Team Chat
SWELL's team chat tool can help companies manage an influx in business by providing a simple, easy-to-use interface that helps keep everything organized and connected. With this tool, users can create different chat channels to contain information about different projects, as well as use search keywords to find chats easily. Also, employers have the ability to stay connected with their team members using their mobile device – anywhere in the world! So whether you're on the beach or getting coffee, you can always be up-to-date on what your coworkers are doing.
6 . Telephone
SWELL's telephone tool is designed to help companies manage increases in clients and leads through powerful features. It allows users to dial, record, and improve their sales rep performance by allowing them to quickly call leads from their browser. With this tool businesses can have access to as many phone numbers with any area code they require. The tool also allows sales reps or other company associates to record calls and attach them to clients, leads or projects. Additionally, users are able to set up call forwarding with their new customized number and transfer calls directly to their mobile phone or main office line. To further maximize the potential of this telephone tool, businesses are also provided with SMS text message marketing functionality that enables them to send out messages easily and quickly to subscribers, clients, and contacts lists.
7 . Opportunities
SWELL's Opportunities tool offers businesses the ability to manage an influx of clients and leads with one easy app. This tool streamlines the sales process and helps businesses identify which leads have the best potential. With drag and drop capabilities, you can move opportunities through each stage of your sales pipeline at a fraction of the time it would normally take. It allows businesses to title the opportunity, attach it to their client, assign users to tasks, select status, estimate a value for potential sale, set start date and deadline and add notes as needed. Plus, with an all-in-one bird's eye view you have an overview of all possible opportunities which makes ensuring that you don't miss any deals easier than ever before. By utilizing SWELLEnterprise's Opportunities tool streamlining your operation has never been simpler.
8 . Email Client
Stay organized and on top of customer communications with SWELL Enterprise's comprehensive email system. Our fully integrated tool allows you to easily manage incoming and outgoing messages as a single platform, never miss an important email, create templates for later use, or schedule emails in advance. With our secure storage option in the cloud, access your inbox and draft new emails from any of your devices anytime you need. Sending proposals, estimates, and invoices to clients is also made simple through the easy click of a button, making it easier than ever to be reachable for customer satisfaction and keeping yourself organized throughout the day. SWELL is your one-stop shop for all your email needs!
9 . Project Management
SWELLEnterprise's project management tool is designed to make managing an influx in clients and leads a breeze, especially for small businesses that are looking for growth. With our software, you can create projects with pre-set deadlines, assign it to users, and add notes to keep your team updated throughout the length of the project. To get started, simply click the "add project" button and give it a name. Then choose the client for record-keeping purposes. Set due dates for each step, estimate how long you expect it to take, and provide any other necessary information or instructions you want your team to be made aware of. Your employees will receive notifications when deadlines approach so that nobody is ever left in the dark about expectations. And with everything all in one place, keeping on top of leads has never been easier!
10 . Workflow Automation
With Swell's workflow automation tool, businesses now have the flexibility to manage complex client and lead influxes at a fraction of the manual labor costs. With the easy-to-understand "if this, then that" scenarios, companies can automate just about anything – from more complex workflows like creating projects to simple things like the hiring process or routine tasks when an invoice is paid to sending emails when a project or task is marked as "complete." Build your custom workflows to get everything done just the way you want it. With a straightforward setup and an intuitive user experience, you can be assured that SWELL's tools come without a steep learning curve and ensures business operations are running seamlessly. Sign up today and save countless hours of time on manual tasks by  making the transition to the digital transformation of automation!
By running your business with automation software, like SWELLEnterprise, you can free up valuable time to focus on more important things—like growing your business. You can get rid of time consuming or repetitive tasks and increase productivity and possibly enhance the customer experience with your business by having everything streamlined and merged into one place. If you're a small business owner or a large corporation that's trying to be prepared or if you're having trouble handling everything with the resources you have, perhaps you just need to find the right automation platform with key features to make it all easier.