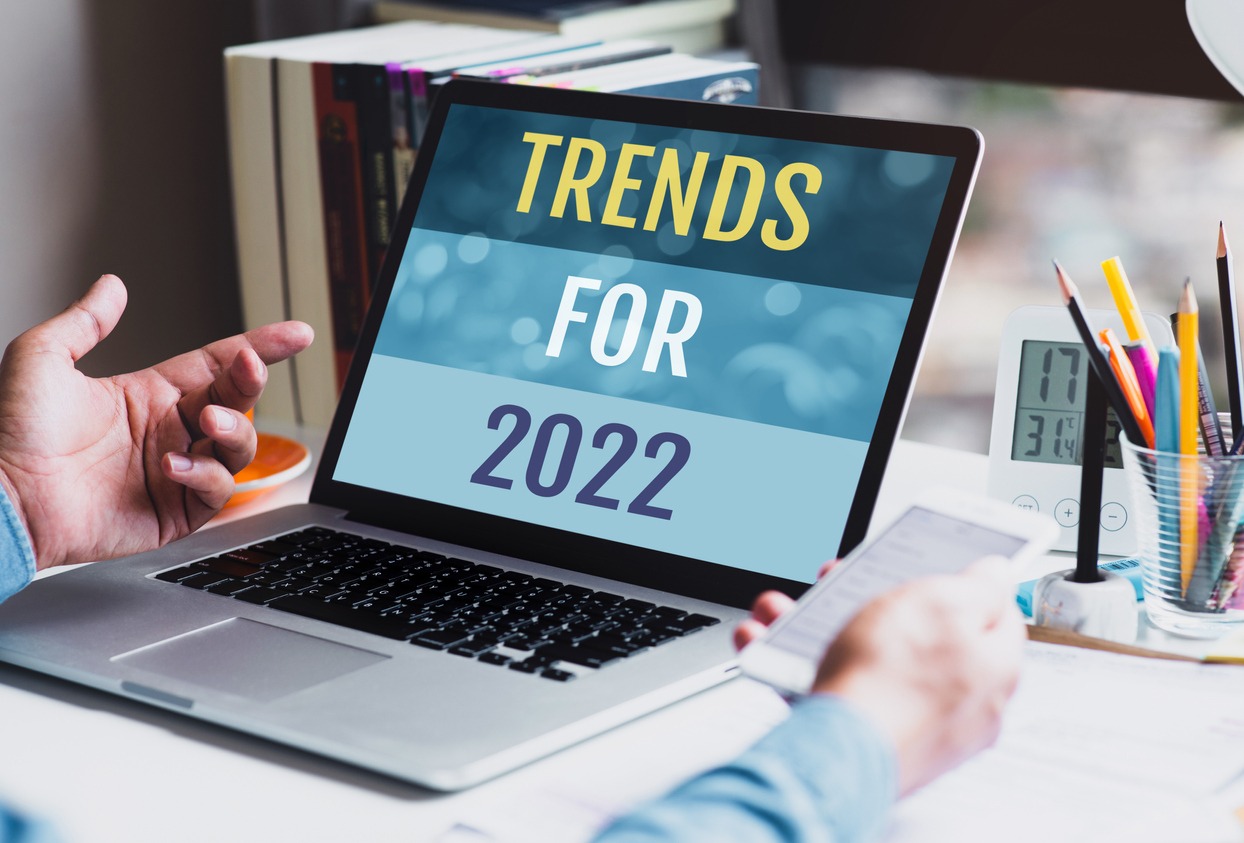 The marketing industry constantly evolves with the world around it. Since the start of the COVID-19 pandemic, we've seen just how quickly the industry can evolve.
In 2020 and 2021, marketers were forced to adjust to an unprecedented reality and embrace digital transformation due to the changing hybrid and virtual business landscape.
The abrupt suspension of in-person events forced businesses to shift to digital marketing.
However, as countries reopen their economies heading into 2022, marketers should position themselves to thrive in a post-pandemic world. But, one question remains unanswered; will they return to the old norms or continue embracing habits forged during the pandemic?
Today, we take a look at the top marketing trends in 2022 and those trends that will die out. Let's dive straight into it.
What will be the Marketing Trends in 2022?
Influencer Marketing Will Gain More Prominence
Influencer marketing isn't a new concept in the industry. However, the pandemic and the ensuing lockdowns catapulted it to new heights. Today, influencer marketing isn't the intriguing trend it used to be, but a commonly-used tactic.
A recent survey indicates that 34% of brands plan to leverage influencer marketing to push their products and services in 2022. Most business owners, marketing agencies, and brands that leverage influencer marketing say it's an effective strategy.
46% of them intend to increase their influencer marketing budgets because they claim it's the top ROI-generating marketing strategy they've tested. This may leave you asking, how did influencer marketing gain its vantage position?
Well, over the past few years, brands realized they could leverage the market reach of thought leaders and influencers to reach their target audience.
These influencers often have a large and active audience interested in their content. The audience is also swayed by any information provided by these influencers.
So, when businesses collaborate with influencers or thought leaders in their respective industries, they quickly expand their brand awareness and gain new fans in the process.
If you're planning on using influencers to push your brand in 2022, you should look beyond the number of followers. Determine whether an influence is a right fit for your brand.
True influence lies in engagement rates (subscribes, clicks, and purchases) rather than the number of followers.
Mobile Optimization Will Drive Marketing Campaigns
Consumers spend more time on mobile devices than before. More than 50% of Internet traffic comes from mobile devices. With the purchasing power of millennials and Gen Z consumers growing, businesses should provide mobile-optimized digital experiences.
This is particularly true for brands looking to attract this fast-paced and highly connected market. There are dozens of reasons to optimize your marketing campaigns and content for mobile, and here are a few of them:
Other marketers and business owners are investing in mobile-friendly web designs
Business owners who've invested in web design plan to invest even more in 2022.
SEO marketers consider mobile optimization an effective marketing investment
Users' mobile experiences aren't essential on your brand's website alone. They're also vital to the success of other crucial marketing strategies you've implemented.
For instance, most marketers who work with email focus on delivering seamless mobile experiences to subscribers.
Marketers Will Take More Ownership
In the recent past, marketers have increasingly been taking ownership of their campaigns and the services and product they help to sell. This is due to the central role social media plays in today's marketing world.
Thanks to social media campaigns small businesses can take charge of their marketing campaigns and ultimately increase the value of their brands. To a casual observer, marketers are increasingly taking more ownership doesn't make sense.
However, the shift makes sense to insiders. If you're a business owner or marketer and can sell someone's products and bring in revenue, you'll undoubtedly increase that company's value.
Having an ownership stake in the company will motivate you even more because an increase in revenue directly benefits you.
Today, it isn't surprising that when you engage marketing professionals, they first look at how they'll benefit from rendering their services to you. Most of them always put performance metrics in place to enable them to gain some ownership when specified goals are met.
For instance, TechCrunch recently ran a story about an outsourced CMO agency that created a venture firm for investing in businesses that can benefit from the agency's services.
With marketers ambling for ownership stakes in companies that hire them, expect more such deals in 2022.
Social Responsibility Will Become a Core Component of Marketing
Today's socially conscious consumers prefer companies that give back to society in some way. Thus, it isn't surprising that CSR isn't a mere buzzword in the marketing world but a core component of companies' success.
In 2022, CSR will become an even more prominent component of marketing. As a small business owner or marketer, you may think that CSR only applies to big businesses, but no.
Any well-rounded marketing plan should have a CSR component. An easy way to do so is by partnering with nonprofit organizations. Such partnerships have the potential to grow your business while aligning you with charitable missions that are dear to you.
Expanding your brand reach while taking part in social causes is a win for everyone. Nevertheless, ensure that your marketing strategy doesn't stop at expressing support for charitable causes.
Potential customers want to see you taking action to support philanthropic causes they relate with. Thus, your strategy should include achievable goals such as affiliate marketing, product placement, corporate sponsorship, and percentage of sales donations.
Such initiatives not only boost your marketing campaigns but also help you to reach a wider audience.
There Will Be Alternatives to Third-Party Cookies
Ten years ago, it was hard to imagine meeting customers without relying on third-party cookies. However, third-party cookies are no longer the go-to means for prospecting and customer outreach.
Marketers and business owners now have to meet their prospects in a "cookie-less" world. As a result, they've had to rethink their customer outreach, prospecting, and even measurement strategies.
This may not be a significant problem for the bigger companies because they have the budget to deploy sophisticated first-party strategies such as programmatic media and dynamic creative optimization. However, the same cannot be said of smaller businesses since most of them need to find alternatives to third-party cookies.
With consumers demanding more privacy protection and control over their data, marketers need to adjust. An easy way to do so is by intensifying your efforts to collect and exploit first-party data. Alternatively, you can leverage tools such as Google Privacy Sandbox to achieve personalization when targeting prospects without intruding on their privacy.
Regardless of the alternatives you choose for third-party cookies, interactive content, surveys, and CRM tools will become instrumental to marketing success in 2022 and beyond. This also offers you the opportunity to cultivate trust by implementing better customer data practices.
The Return of Experiential Marketing
There's no better way for business owners in the service industry to grow their brands than using experiential marketing. It allows the target audience to step into a virtual world via a VR/AR platform.
When they visualize how your products can address their pain points, they are likely to buy from you even without seeing the actual product in the first place.
Experiential marketing allows your brand to connect with the target audience in a fun and meaningful way. It leverages virtual event technology to bring your brand to life.
The Covid-19 pandemic brought marketing events to a stop, but you can still leverage technology to reach the target consumers without meeting them in person. With in-person happening again, expect experiential marketing events to pick up in 2022.
If well implemented, it helps you build:
Brand awareness— experiential marketing gets your name out there.
Brand loyalty and affinity— people make the purchasing decision based on emotions, and there's no better way to appeal to buyers' emotions than building positive product experiences through experiential marketing.
Allows prospects to try your product— few marketing channels allow prospects to feel, touch and sample your products as experiential marketing does.
Boosts your cross-channel marketing efforts— experiential marketing events give prospects something to talk about on platforms such as social media with hashtags, fun activities, etc.
Generates leads— through experiential branding, it's easy to collect prospects' contact information and other crucial data.
Brands Will Step-up Their SEO Campaigns
In today's digital world, it's imperative to ensure that your content and website are discoverable, especially on Google. Optimizing your site and content to appear among the first search engine results offers both short-term and long-term traffic returns.
Although SEO is no longer a new concept in the marketing world, its practices will get even more ingrained into brands' marketing campaigns in 2022.
The need and interest in SEO strategies will grow as we head into 2022. Likewise, search optimization opportunities for small businesses will grow. Stepping up your SEO strategy will position your brand for success in 2022 and beyond.
However, remember that SEO is no longer about creating basic website posts that answer simple search engine queries.
As part of their digital marketing campaigns, most brands hire experts to help with all aspects of SEO, including multimedia optimization and search insights reports. The trend is likely to persist in 2022 and beyond.
So, as you set aside your SEO budget, consider hiring experts to lead your campaigns.
Which Marketing Trends in 2022 Will Die Down?
Marketing is complex. There are seemingly endless techniques to endear you to prospects. However, some marketing trends you know of may not help you achieve the desired results. Here's a lowdown on marketing trends that will likely die down in 2022.
Virtual Events Will Reduce
The stay-at-home orders implemented when the coronavirus pandemic set in forced marketers to shift most of their events online. However, the gradual reopening of the economy has seen in-person events become popular again. This doesn't mean that virtual events will stop completely. Instead, they will continue, but brands will invest less in them.
In 2022, virtual conferences and events will still take place, but there will also be opportunities for in-person gatherings. Even with the shrinking of budgets for virtual marketing events, they won't exit the scene any time soon.
As a business owner, you should start investing more in physical marketing events but also allow virtual attendances.
Creating Promotional-Only Social Media Content
Social media is a core component of digital marketing campaigns. However, it's also a minefield, which needs to be navigated carefully. It's pretty easy to lose your current customers and turn away prospects because of social media, more so if you only use it to advertise your brand.
Creating promotional-only content on social media is one of the marketing strategies that will die down in 2022. Your social media followers want to read content that adds value to them, and that cannot be said of overly promotional social media posts.
In 2022, brands will use their social media pages to strengthen their following and drive engagement rather than promoting their products. Growing your social media presence and driving engagement is an excellent way to market your brand without overwhelming your audience with promotional posts.
A Shift from Email Marketing
When it comes to email marketing, some think it's no longer practical. Conversely, others argue that email marketing provides you with a manageable, cost-effective, and quick way to reach prospects and maintain current customers.
Nevertheless, as consumers call for privacy protection and control over their data, email marketing is among the trends that may die out in 2022.
Final Thoughts
Many trends define the marketing world. Every so often, marketers and business owners are often forced to adapt to these trends. By taking the above-mentioned marketing trends in 2022 into account, you'll be up to speed and in a position to take your brand to new heights in 2022.
If the idea of keeping up with these and other trends scare you, do not worry because Swell Systems is there to help. We have an all-in-one app that allows you to manage all aspects of your business, from admin and sales to production. Also, do not hesitate to check our Instagram page for daily marketing tips.