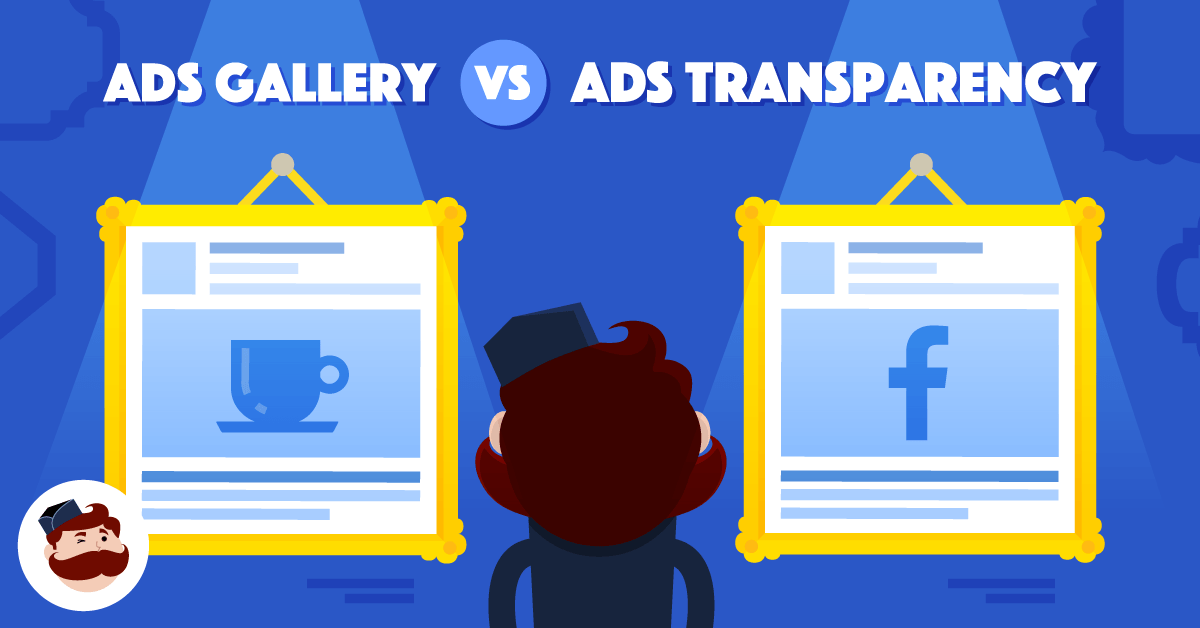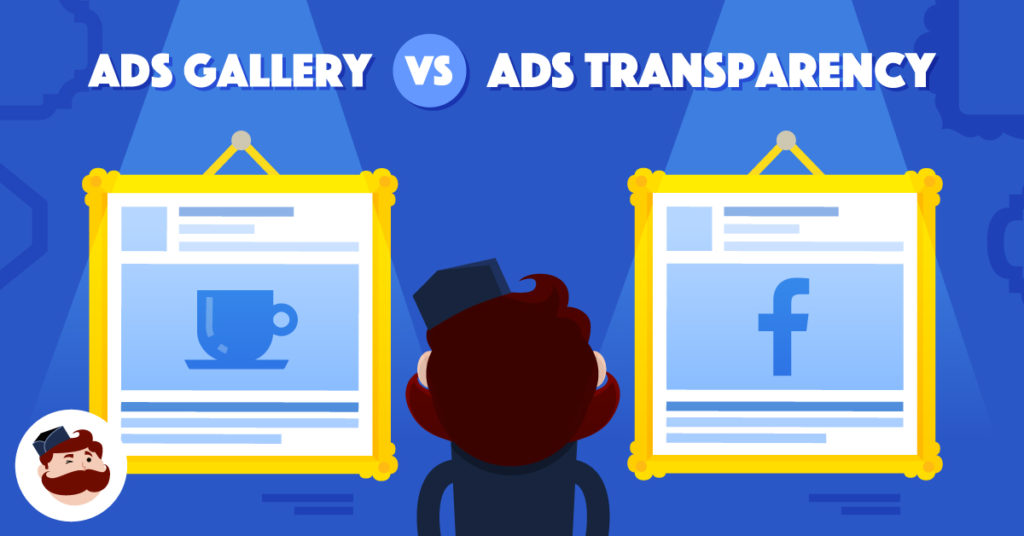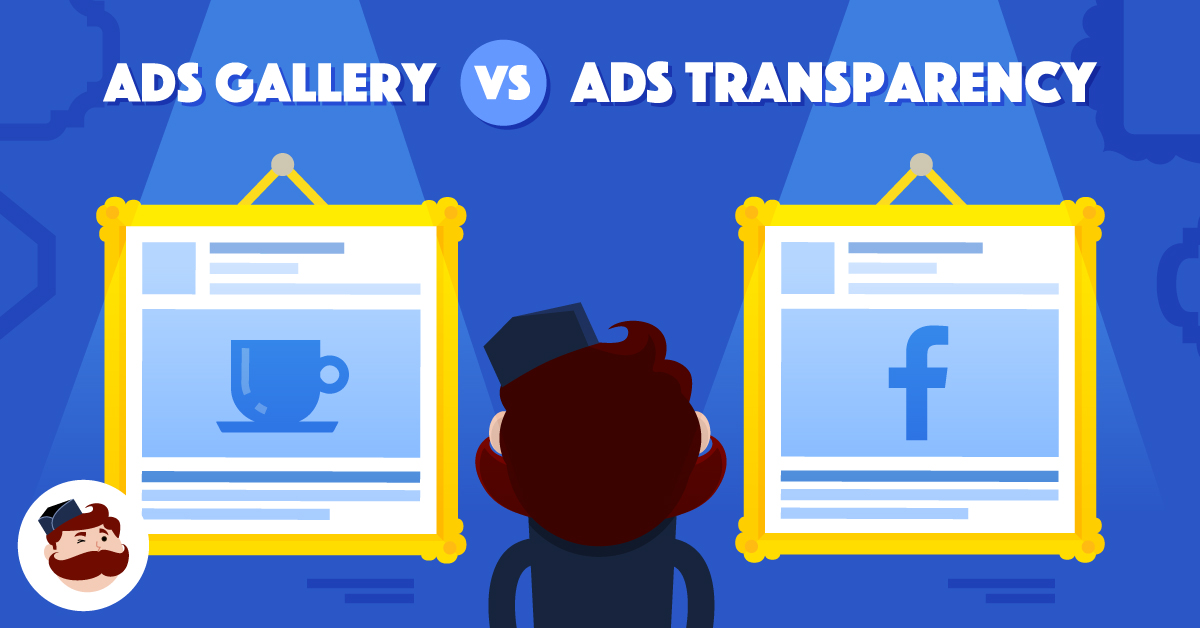 Facebook Ad Transparency Tool: What It Can and Can't Do
So quick recap: Facebook has faced a huge backlash following the political controversy, which hit especially hard considering that many users believe social media is (or at least should be) both authentic and transparent.
Facebook has made a lot of big changes very quickly on the platform to prevent something similar from happening in the future.
There are stricter restrictions on retargeting, custom audiences, and so much more. You can read about a lot of these here.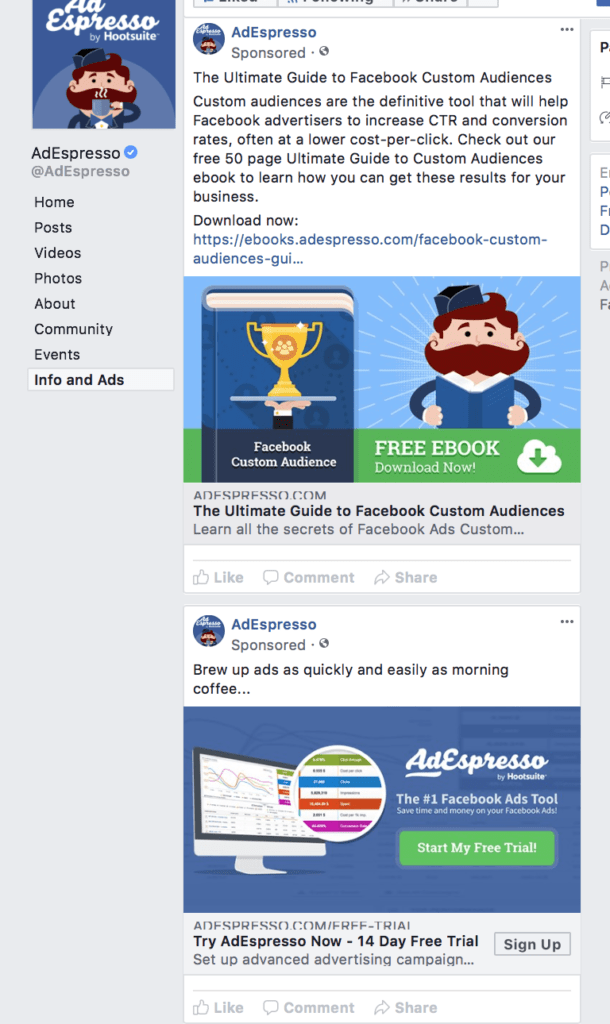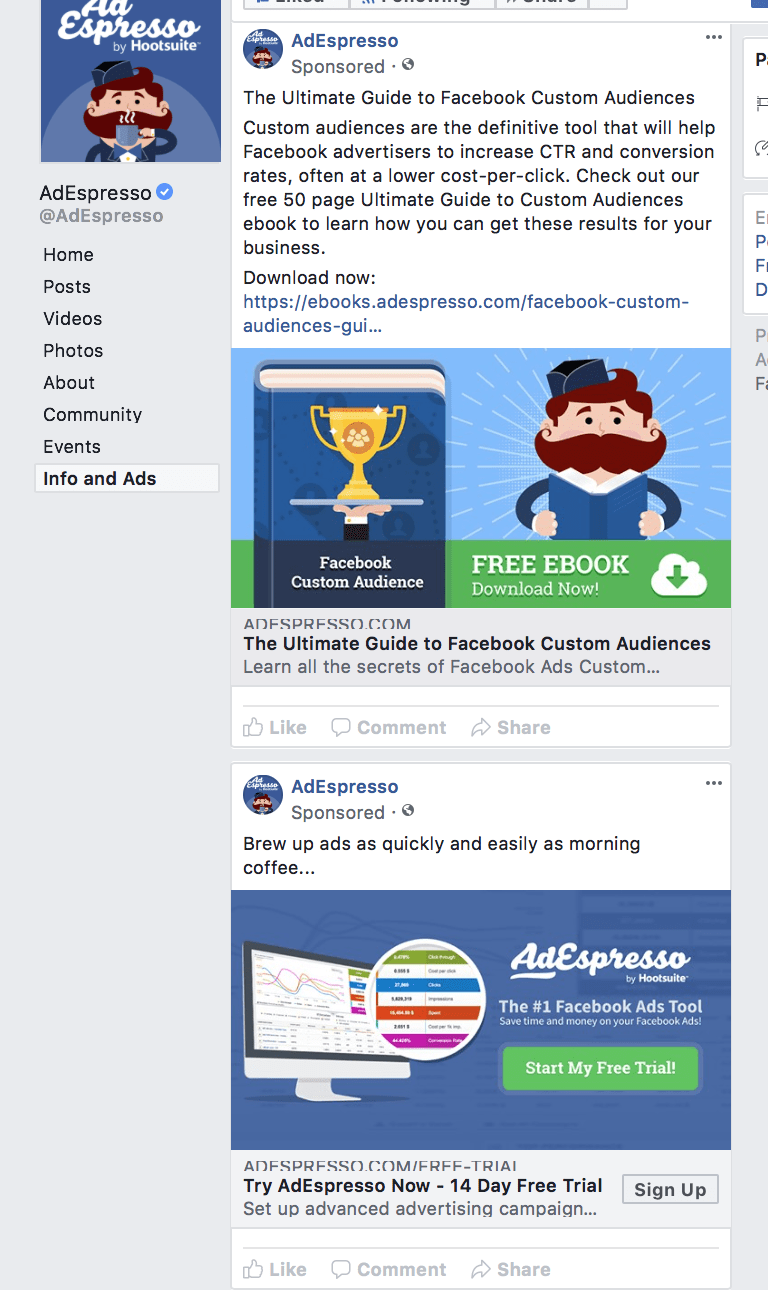 There's another new feature that will help protect users by increasing transparency on the platform: the new Facebook Ad transparency tool. It allows users to see all the ads a Page is currently running.
In this post, we're going to go over how to access the tool, what it means for businesses, and what exactly it can and can't do.
Not enough? Ok, we'll also explain why you should be using other competitor research tools (like our Ads Gallery!) for best results.
What is the New Facebook Ad Transparency Tool?
Facebook's Ad Transparency tool is a feature that allows all users to view every single ad that a Page is currently running.
You can click on the CTA to be taken to the landing page users see when they click, giving you a complete view of the ad the Page is running and the goals they're trying to accomplish with it.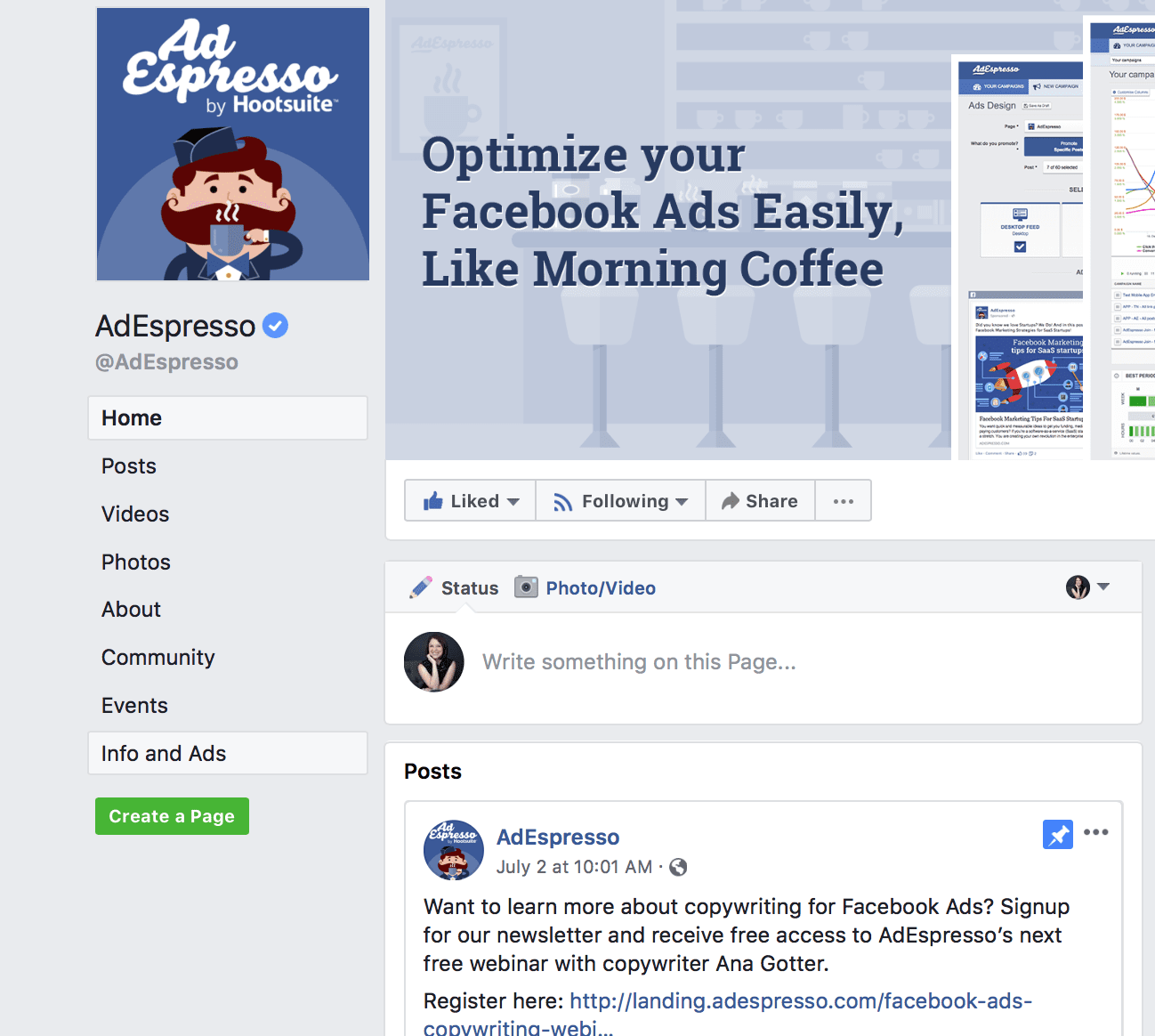 Ideally, this will allow users to spot discrepancies in different ads, because you can see an ad on this list even if you aren't in the target audience. If someone was running conflicting ads, or ads with a hypothetical political bent, you could track that more easily.
Brands, of course, can use this as competitor research.
Being able to see all your competitor's active offers and campaigns is a huge advantage, and you can use it to alter your own campaigns, to get new ideas, to detect new strategies or pain points that they may not be using that you can instead.
From a competitor research standpoint, there are limitations to this tool.
While it can show you all the current ads and the landing pages tied to them, that's about it.
It can't show you the past ads a Page has run, or the social proof on most of the ads.
While some users are able to see engagement on non-link click ads (I personally am not), this isn't currently possible for link-based ads that have CTAs. Being able to potentially see some video views, likes, and comments is helpful, but if you aren't able to get a full view of which campaigns are getting the most engagement, it still only gives you so much information. 
This hinders the data you can get from these ads, tainting the information somewhat. You could easily end up testing out a strategy that is currently failing for your competitor, inadvertently getting dragged down alongside them.
But we have a solution for this, keep on reading and you won't regret it!
How to Access the New Facebook Ad Transparency Tool
Navigate to the Page whose ads you want to research.
Go to the left-hand navigation bar, and select "Info and Ads."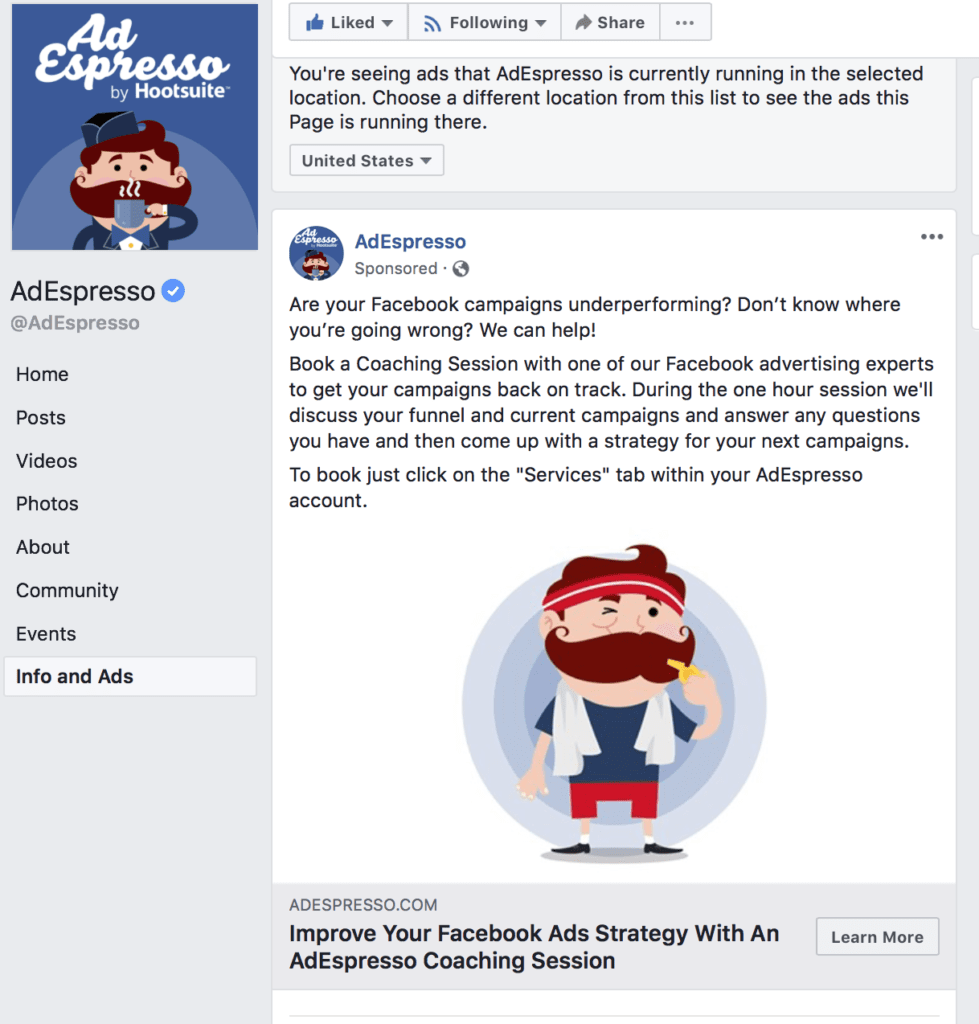 You'll be able to see all the ads that the Page is currently running.
In our case here at AdEspresso, we run ads in a large number of countries, so if you wanted to see all the ads we were running, you should need to view ads from each country individually.
You won't see the engagement on any of these ads, but you can click it to see the landing page users are taken to when they click on the ad.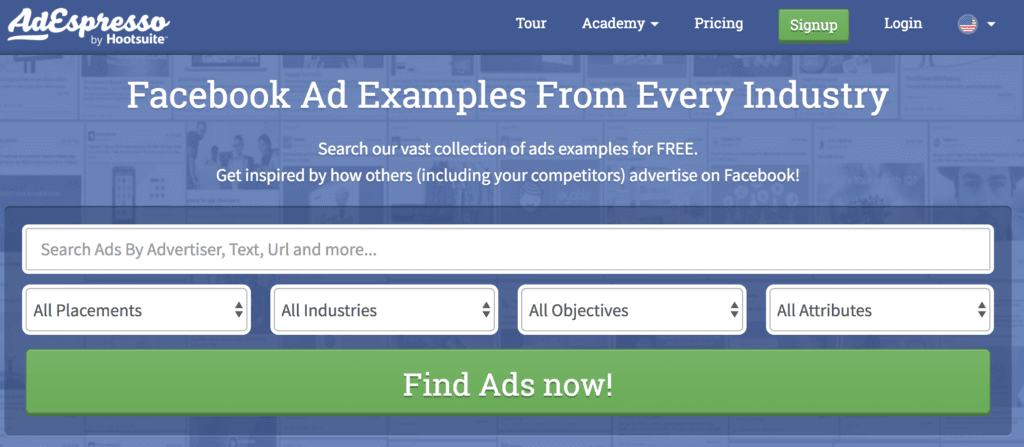 In the beginning was the… Ads Gallery
Ok, the title might sound a little biblical but it's true: our Ad Gallery, the unique archive of real Facebook ads that only AdEspresso offers, has been created way before Facebook started this new transparency era.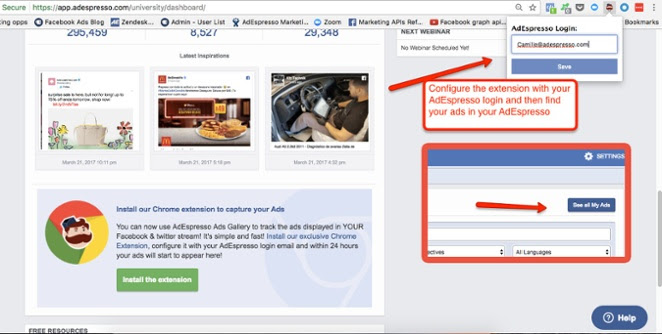 It's an incredible inspirational tool for marketers that, as of this moment, has a count of 161,672 Facebook Ad Examples in the free section (available to everyone) plus 100,392 more Facebook Ad Examples available for our newsletter subscribers only (you can sign up here).
And what about the 1,544,825 Facebook ads and the 106,340 Twitter Ads free for our customer and University subscribers?
Should we also mention that you can see (and search) ads in 36 different languages? And that you can get this immeasurable value for less than one coffee per day?
But what makes this tool really unique is that fact that the hundreds of thousands of examples of our Ad Gallery (and the number grows every day) are collected thanks to your cooperation, too. AdEspresso ads gallery, in fact, is populated by capturing the Facebook ads that show up in your newsfeed and in the newsfeed of all those who added the Ads Gallery Extension for Chrome.
If you are an AdEspresso user there's even more functionality for you.
Download our Chrome extension, connect it to your AdEspresso account, and within a few hours, you'll start seeing the ads screen-capped from your newsfeed pop-up in your very own Ads Gallery directly in your AdEspresso dashboard.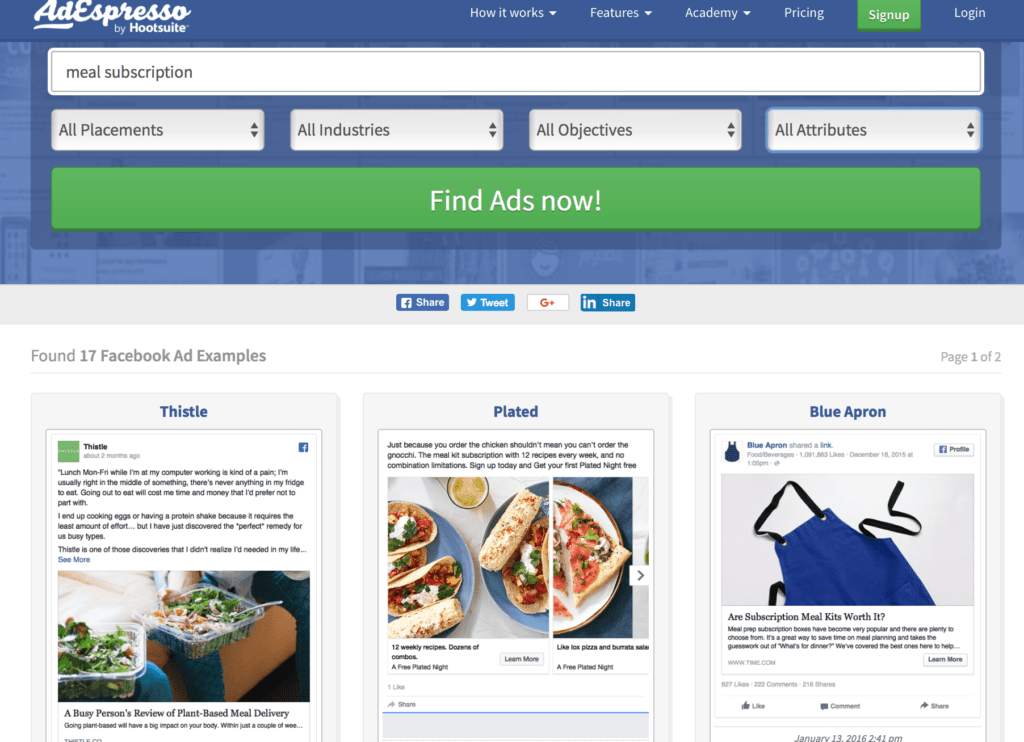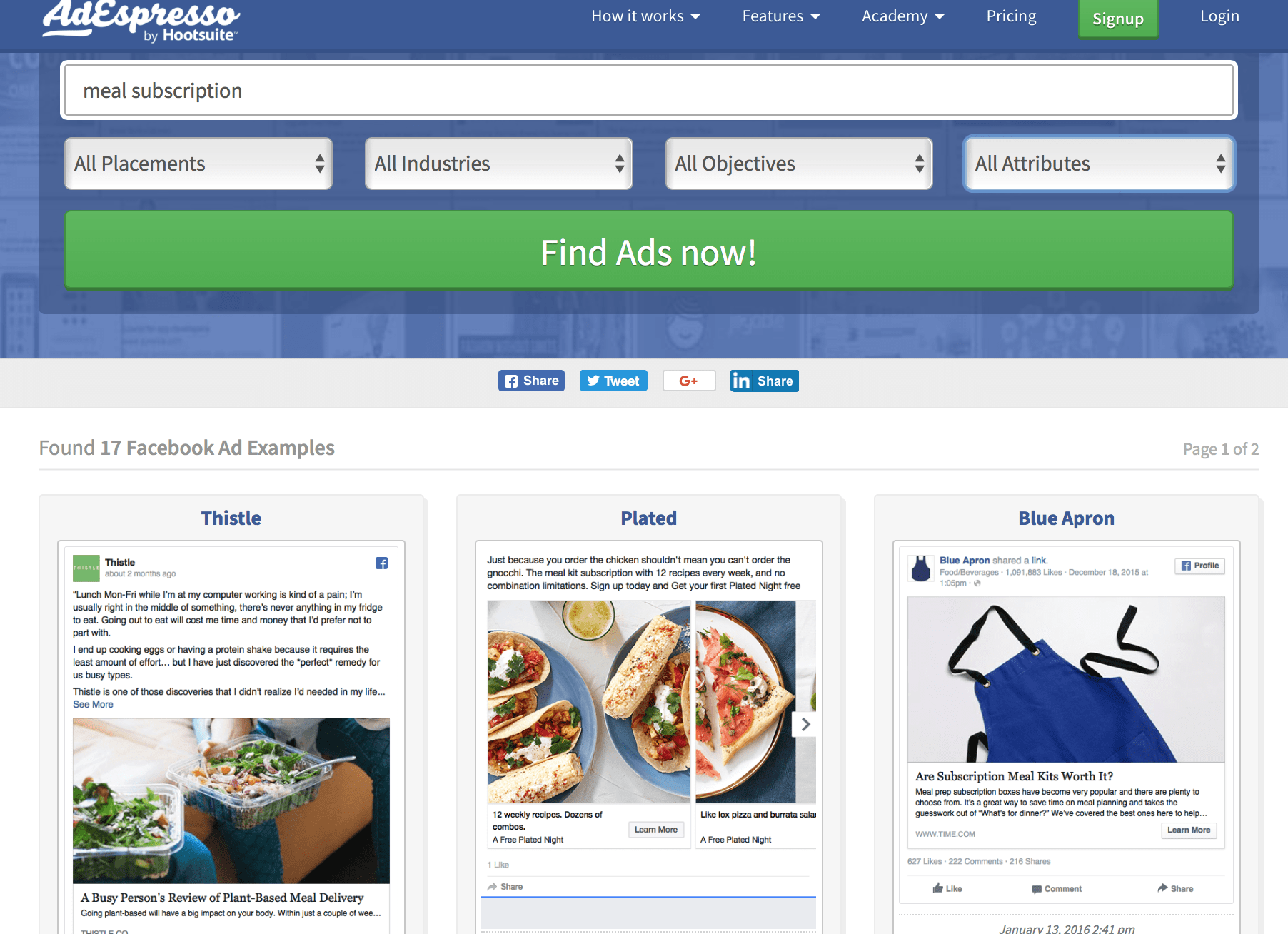 Now that you know how the gallery works, let's make it also clear how it performs compared to the new Facebook Ad Transparency tool.
AdEspresso Ad Gallery vs. Facebook Ad Transparency: Is This a Replacement?
Remember those limitations we discussed earlier on? That with the Facebook Ad Transparency tool you have no idea how the ad is performing on most campaigns and that you can't see any past current ads?
AdEspresso's ad gallery can resolve both of these problems, which is why the new Facebook ad transparency feature isn't a replacement but instead a complementary tool that you can use for competitor research.
The AdEspresso gallery can show you ads that have been run in the past, even if they aren't running now.
This can give you some insight into what campaigns your competitors chose to keep running, what offers they've presented over time, and which ads maybe didn't do so great because the strategy or pain points aren't being used in current ads.


It can also give you an idea of how past ads performed, because there's social proof metrics available for all campaigns. 
This will obviously be closely tied to budget in many cases, but seeing an ad with 10,000 likes could be a good place to start your research.
AdEspresso Ads Gallery is also more generous regarding the data you can pull.
You can search for specific qualifications, like types of ads (think carousel or video ads exclusively) or ads featuring a certain keyword.
Not only you can see different examples to get new ideas, but also you can do this very, very quickly.
This allows you to get a quick look at what many of your competitors are doing instead of having to sort through a large number of ads from a single competitor to hopefully find what you're looking for.
For example, if your competitors aren't using a specific feature (like carousel ads, or retargeting), you can discover it in a blink; this will greatly help you get a good idea of how businesses in other industries are using the different features Facebook offers and how you can adapt, too.
Long story short: the Facebook ad transparency tool is a huge asset for advertisers, but it should always be used alongside a bigger-picture tool like AdEspresso's ad gallery so that you get the full story.
Conclusion
The new Facebook Ad Transparency is one step towards earning back user trust.
And it can also be a great tool for businesses looking to keep an eye on what their competition is doing.
It isn't the end-all-be-all in ad research tools, however, and is best used alongside AdEspresso's Ad Gallery to get a wider picture of what's been happening with all of your competitors, instead of what's just happening right now with one.
Ok, we're done with talking the talk! What about you walking the walk now?
Are you ready to check out the ad gallery for yourself? You can start browsing hundreds of thousands of real ad examples just by clicking here.
What do you think? How do you feel about the new Ad Transparency tool? Will you use it as a user or an advertiser? How will you employ it in conjunction with the AdEspresso gallery? 
https://adespresso.com/blog/facebook-ad-transparency-what-it-can-and-cant-do/
On – 12 Jul, 2018 By Ana Gotter