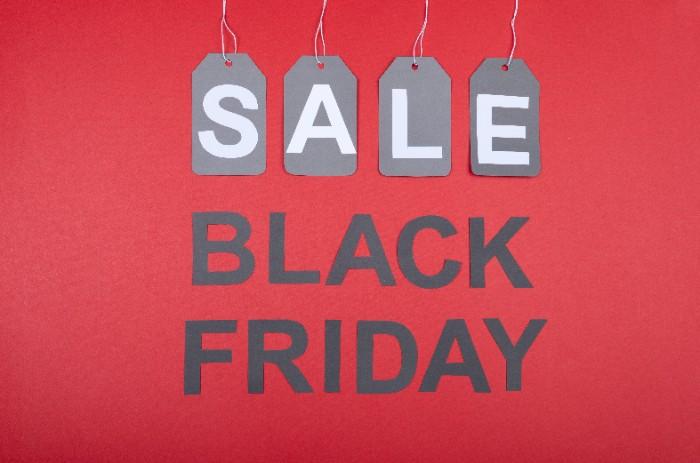 The upcoming holiday season is a crucial time for businesses, both big and small. Consumers are out spending money, which means that your marketing efforts have the potential to result in a significant ROI. And while you may be focused on your annual holiday sale or promotion, don't forget to leverage a holiday event like Black Friday to give your marketing strategy a boost. Black Friday is one of the biggest shopping holidays of the year. And while it might seem like an event that's only relevant to retail businesses, that's not the case. There are plenty of opportunities for businesses in other industries to take advantage of the holiday and drive sales. The holiday season is also more than just a time of year where customers are in a spending mood. It's an opportunity to use some of the best holiday marketing strategies businesses can think of to connect with customers on an emotional level and forge relationships that will last long after the tinsel has been taken down and the Christmas lights have been packed away. Here's a look at why you should leverage holiday events like Black Friday in your marketing tactics and how to do it.
3 Important Reasons:
1. Increased spending.
On average, consumers spend more money during the holidays than any other time of year. And Black Friday is no exception. The increase in spending is typically 20-40 percent during the holidays. In 2018, shoppers spent a record $6.2 billion online on Black Friday, a 23% increase from 2017. What's more, overall holiday spending is expected to reach $720 billion this year, up from $686 billion last year. This increase in spending presents a big opportunity for businesses to boost sales and drive revenue.
There are several reasons for this spending increase. First, people tend to travel more during the holidays, which can lead to higher spending on transportation and accommodation. second, people tend to exchange more gifts during the holidays, which can add up quickly. Finally, the festive season is a time when many people take advantage of holiday promotions and special deals on items that they wouldn't normally purchase.
2. More foot traffic.
Not only do people spend more money during the holidays, but they also go out and about more. Black Friday is one of the busiest shopping days of the year. And while most people think of it as a day for scoring deals on big-ticket items, the truth is that Black Friday shoppers are out spending money on everything from clothes to groceries. This increased holiday rush foot traffic presents an opportunity for businesses to get their products and services in front of more people and generate awareness for their brand.
3. A captive audience.
Some of the shopping struggles that consumers face during the holidays include fighting crowds, dealing with long lines, and finding gifts that are within their budget. Additionally, many people find holiday shopping to be stressful and overwhelming. With all the hustle and bustle of the holiday season, people are looking for ways to save time and make their lives easier. That's where businesses come in. By offering products or services that make people's lives easier or help them save time, you can position your business as a valuable resource and capture a captive audience this holiday season. Figure out how to make the holiday shopping experience more enjoyable for your customers and capture a larger share of the market.
4. Greater Competition
With so many businesses vying for consumers' attention during the holiday shopping season, it's important to make sure that your marketing efforts stand out from the crowd. Some of the biggest competitors during the holidays are retail businesses. This is because shoppers are out looking for deals on items such as clothes, electronics, and toys. Other businesses that compete for attention during the holidays include restaurants, travel companies, and online retailers. Leveraging holiday events like Black Friday gives you a chance to get creative with your marketing and really get consumers' attention.
How to Make the Most Out Of It: Holiday Marketing Tips
Plan Ahead
The key to any successful marketing campaign is planning ahead. And that's especially true when it comes to Black Friday. Most people start their holiday planning early on, so it makes sense that businesses should do the same. By starting your planning early, you'll be able to map out a comprehensive strategy that takes into account all the different elements of your marketing strategy, from your target audience to your budget to your objectives.
Focus on Your Target Audience
When planning your holiday marketing campaign, it's important to keep your target audience top of mind. After all, not every marketing tactic will appeal to every single person out there—so it's important to focus on the ones that are most likely to resonate with your target audience and drive results for your business.
Offer Discounts and Deals
One of the best ways to drive sales during Black Friday is by offering discounts and deals on your products or services. By offering incentives like free shipping or percentage-off discounts, you can entice customers to do business with you instead of your competitors. Just be sure to not set your prices too low — you don't want to devalue your products or services.
Think Outside the Traditional Ads Box
When most people think of Black Friday marketing campaigns, they think of traditional advertising methods like TV commercials and print ads. Don't go with the old previous holiday campaigns that everyone has seen before. There are plenty of other ways to reach your target audience. From social media ads to influencer marketing, there are endless possibilities when it comes to promoting your business this holiday season. So, don't be afraid to think outside the traditional ads box when planning your campaign.
Not sure where to start with untraditional ideas? Here are some ideas that can be starting points for you to figure it out:
Social Media Giveaways and Contests
One way to reach your target audience and promote your business to new customers is to run social media giveaways and contests. This is a great way to generate excitement and buzz around your brand, while also giving people a chance to win prizes. To make your giveaway or contest more festive, you can offer holiday-themed prizes or tie it into a Black Friday sale. For example, businesses can offer discounts or prizes to customers who share holiday-themed posts on Facebook or Twitter. You could also ask customers to make social media posts of photos of themselves using your product. Other contest ideas include giving away products or services related to the holidays, such as tickets to a holiday concert or a festive Hamper.
Collaborate with Other Businesses
Another way to get creative with your marketing this holiday season is to collaborate with other businesses. This could involve teaming up for a joint promotion or running a cross-promotional campaign. For example, you could team up with a local restaurant to offer a discount to diners who show their Black Friday shopping receipt. Another example could be a home goods store teaming up with an online retailer to offer free shipping on holiday purchases. Or, you could team up with a neighboring business to offer a special discount to people who visit both stores.
Create a Holiday-Themed Campaign
Another fun idea for marketing your business this holiday season is to create a holiday-themed campaign. This could involve decorating your store or office in festive holiday décor, creating holiday-themed graphics for your website or social media platforms, or coming up with a clever holiday-themed tagline or slogan. Whatever you do, make sure your campaign is creative and eye-catching so that it stands out from the rest.
Create Limited-Time Offers
Creating a sense of urgency is a great way to increase sales and encourage people to take action. And there's no better way to do that than by creating limited-time offers. When running a promotion on Black Friday (or any other day), be sure to include language that indicates that the offer is only available for a limited time. Words and phrases such as "limited time only," "act now," and "while supplies last" create a sense of urgency that encourages consumers to make a purchase. This will prompt people to act fast so they don't miss out on the deal.
Things to Avoid In Your Marketing Tactics For The Holidays
As the holiday season approaches, businesses are ramping up their marketing efforts in order to capitalize on the increased spending that takes place during this time of year. However, while it is important to have a strong marketing plan in place, there are a few things that should be avoided in order to make the most of this opportunity.
Overly Sales-Focused
First, businesses should avoid being too sales-focused in their messaging. While it is important to promote deals and specials, customers are also looking for brands that align with their values and provide a sense of community and connection. There are a couple of key ways to do this through marketing messages. First, focus on shared values and common experiences. This could involve highlighting the importance of spending time with family, giving back to others, or simply enjoying the festive atmosphere of the season. Secondly, use language that is positive and inclusive. Avoid alienating any potential customers by using language that is welcoming and make sure your message can be understood by everyone. Whether it's a holiday sale, a festive giveaway, or simply an end-of-year message of thanks, a little extra effort can go a long way in creating a sense of community and connection during the holiday season. That sense of connection also has the potential to turn those new people you reach into loyal customers.
Sending Lots of Emails, Texts, Mail, etc.
Second, businesses should avoid bombarding customers with too many holiday messages. With customers spending more money during this period, businesses are under pressure to boost their sales. As a result, customers can end up bombarded with messages from businesses vying for their attention. This can be frustrating for customers, who may feel like they are being treated as nothing more than a walking wallet. In addition, the constant stream of holiday marketing emails or ads can be overwhelming and intrusive. As a result, it is not surprising that customers often react negatively to this kind of marketing assault. If businesses want to avoid alienating their customers during the holidays, they need to be mindful of how much contact they are making. Too much is definitely not better when it comes to holiday marketing.The holidays are already a busy time, and customers will appreciate a well-timed message that is relevant and helpful, rather than a constant stream of noise.
Predictability…Don't Go With The Obvious Or Simple Route
Finally, businesses should avoid being too predictable in their marketing approach. The holidays are a time for families to come together, share gifts, and create memories. It's a time of year when people are busy shopping for the perfect present, decorating their homes, and attending holiday parties. In the midst of all this holiday cheer, the last thing anyone wants is to be bombarded with predictable, obvious marketing ads and messages. Whether it's commercials on television or pop-up ads online, holiday retailers are everywhere. Additionally, many customers find holiday marketing to be too materialistic and focused on consumerism. In a time when we are supposed to be thinking about giving to others, retailers are instead trying to sell us more stuff that we don't need. This can leave customers feeling frustrated and even a little down during what is supposed to be a joyful time of year. Customers don't want to feel like they're being sold to; they want to feel like they're being treated like individuals. They want to feel like companies understand what they're going through and are offering them personalized solutions that will make their lives easier. If a company's marketing approach during the holidays is too sales-y or impersonal, it's likely to destroy customer satisfaction and drive people away.
By avoiding these common mistakes, businesses can ensure that their holiday marketing plans are effective and impactful.
Black Friday is one of the biggest shopping holidays of the year—and an opportunity for businesses in all industries to boost sales and drive revenue. By focusing on your target audience, thinking outside the traditional ads box, and offering discounts and deals, you can make the most of any holiday shopping event for your business. So what are you waiting for? Start planning today!